"It's the most wonderful time of the year." 'Tis the season when exchanging of gifts are everywhere and giving a present to someone dear to you is ordinary. The real essence of gift-giving is providing happiness to someone and showing that you personally know them. Most of us know at least one person who is a victim of the travel bug. This post will enumerate Christmas gift ideas that will, from my perspective, make your traveler-friend happy this Christmas.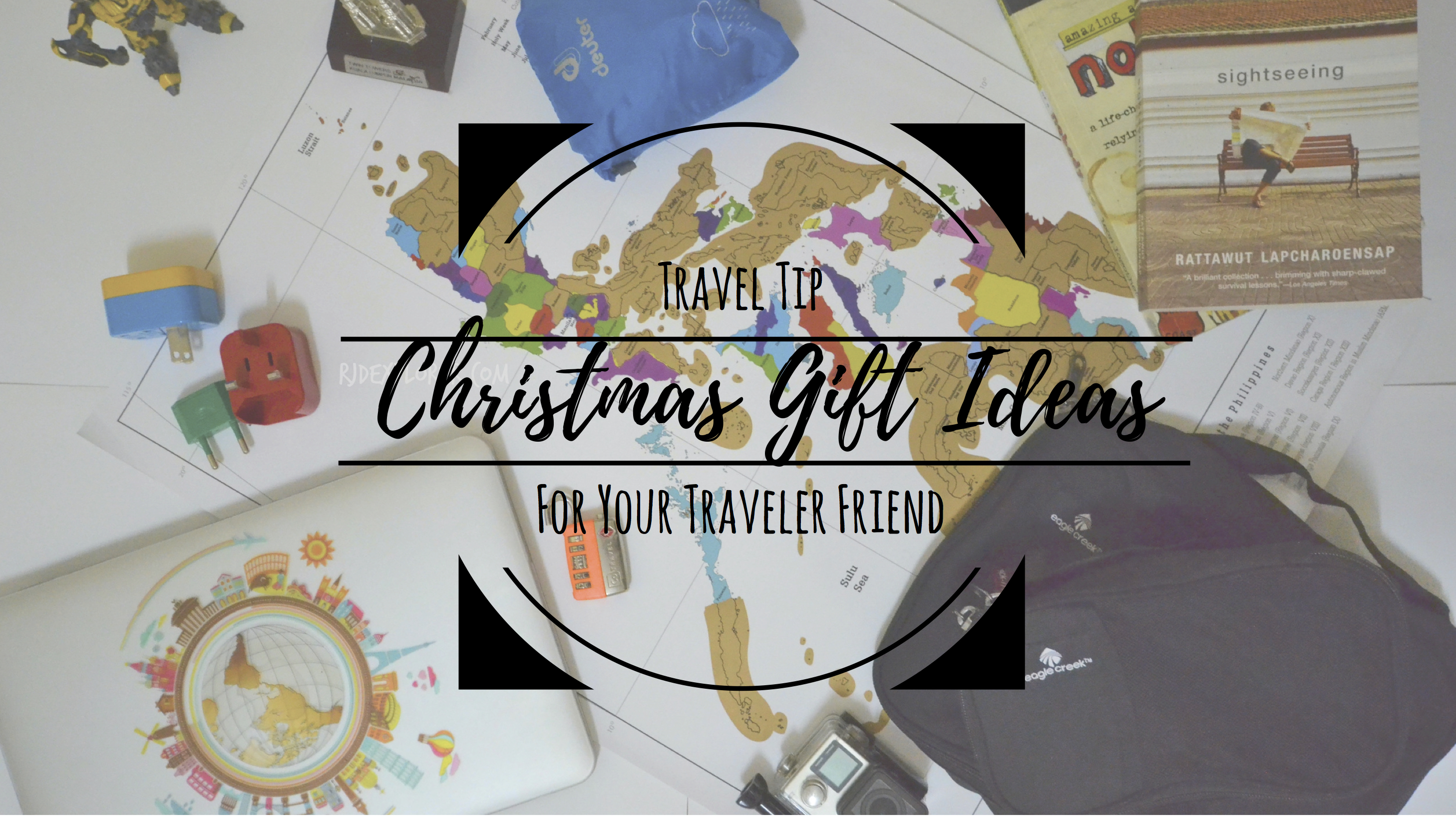 Rain/Luggage Cover
Most airlines offer seat-sales during the rainy season but this will not hinder your friend in booking a flight. Making the most out of the rain is cheaper than snatching an airfare beyond his budget. To support his travel plans in visiting Bicol during the rainy season, a rain cover is perfect for his backpack.
If he's not into backpacking and always carry his luggage and tagging himself a flashpacker, a quirky and vibrant luggage cover will definitely complement his outfit-of-the-day before his flight. Rain covers can go as cheap as Php600 while Wanderskye's cabin-sized luggage covers are priced at Php1195.
Scratch Map
When everyone hooked on traveling and considered visiting all provinces of the Philippines or every country in Asia and nearby continents, scratch maps joined the craze. Kultura Filipino, a retail store that highlights uniquely Filipino artistry and craftsmanship, recently started to offer a cheaper version of the Philippine scratch map.
The glossy, high-quality, and colorful Philippine map, divided into provinces, has a gold foil layer. You need to scratch this layer to show all provinces of the Philippines that you've already been to. Philippine Scratch Map is available at any Kultura Filipino branch nationwide for only Php399.
Travel Planner
Before the year ends, your traveler-friend already has a draft of destinations to visit for the coming year. To make his planning more organized and creative, an interactive travel planner is a great gift. There are a lot of planners out there but some of them stand out from the crowd and cheaper than availing dozen cups of coffee just to get one.
One remarkable journal is the Where to Next Travel Planner that costs Php595. Planner's features include the 2017-2018 calendar, dateless months, several chapters of lessons on the road, bucket-lists, and checklists, and even a page for your friend to schedule all his vacation leaves!
Light Towels
Traveling light is a real challenge especially when you still need to shove a thick and bulky towel inside your already massive backpack. If your friend is a frequent flyer and always relies on the 7-kg free hand carry baggage, a lightweight towel will surely save him from paying excess baggage. Towelite super absorbent and quick dry towels are available in different colors from Php199 to Php550.
Universal Adapter
Some countries in Asia like Singapore, Malaysia, and Indonesia have different electrical outlet plugs compared to the Philippines. I recalled my dilemma during my visit to Singapore when I forgot to bring an adapter to charge my gadgets. Flight001's 4-in-1 adapter, on a color-coded way, will be your solution when faced with the plug issue. For around Php1250, the adapter could help your friend survive all countries without worries of running out of batteries.
Travel Organizers
Have you ever tried checking your friend's backpack when he leaves for a trip? Is he a certified packer that makes use up to the tiny spaces of his backpack or luggage? Travel organizers and compartments are of great help during this time of travel preparations. Eagle Creek offers several sets of mesh compartments to organize the contents of traveler's backpack. They have a set for Php1200 and has 3 pouches, for shirts (and pants), smaller one for undies, socks, and hankies, and the tiny pouch for toiletries.
Combination Lock
I bet your friend sometimes prefers staying in backpacker hostels to meet like-minded people. Staying at dormitories is a lot cheaper than availing a stay from hotels. For your friend to secure his luggage, instead of using the hostel's provided lock, a combination lock will assure him that his stuff is secured even if he's outside exploring the local pub.
Locks come in different sizes, colors, and type. It can be a single or multiple-dial locks and come with letters, digits, and dates as combinations. Wanderskye's TSA approved lock with a 3-digit combination is up for grabs for only Php395.
Backpack
If you still have some budget to spare and the person is really dear to you, a sturdy backpack is definitely the best item to consider. There are many types of backpacks and for you to consider his preferences, see his travel patterns. If he usually uses weekends for his trips, then a backpack below 30L is fine. But if he tends to have his trips 3-5 days on average, get him a 30 – 50L backpack.
Several brands are famous for quality bags and some of them are The North Face, Columbia, Deuter, and Osprey. If you're on a tight budget but still wants to surprise your traveler friend, I was able to score a 16L daypack from Deuter for only Php1500.
If your friend already has all items mentioned, then the last suggestion would be anything that has prints and designs related to travel. Give him a laptop cover having a globe surrounded by famed structures of the world, maybe a camera strap etched with country flags, a pillow cover shouting all the major cities of the world, or some mementos from your own trip. To level up your gift-giving strategy, treat him a free roundtrip ticket to his target destinations!
Have you tried giving a present to a friend who loves to travel? Kindly leave some tips and guides below for other people to come up with ideas and items that will make their traveler-friends happy this Christmas.