Last time I was in Boracay Island, Tides Hotel Boracay served as our abode for our short weekend getaway in the island. However, I needed to stay one more night because I booked a different flight. It required me to look for a place to stay preferably away from the buzzing crowd. I was browsing on my phone when I saw a promotion of Traveloka on Facebook. I tried installing the app and surprised with the discounts and ongoing promotions for flight and hotel bookings.
BOOKING VIA TRAVELOKA APP
With that, I searched for a place to stay in Boracay and encountered Lazy Dog Bed and Breakfast. Booking a hotel via the Traveloka app is as easy as 1-2-3. Type in your destination, put the desired number of days and guests, and wait for the app to retrieve the list of accommodations. From the output of your search, you could sort, filter, and check the locations of these places on the map.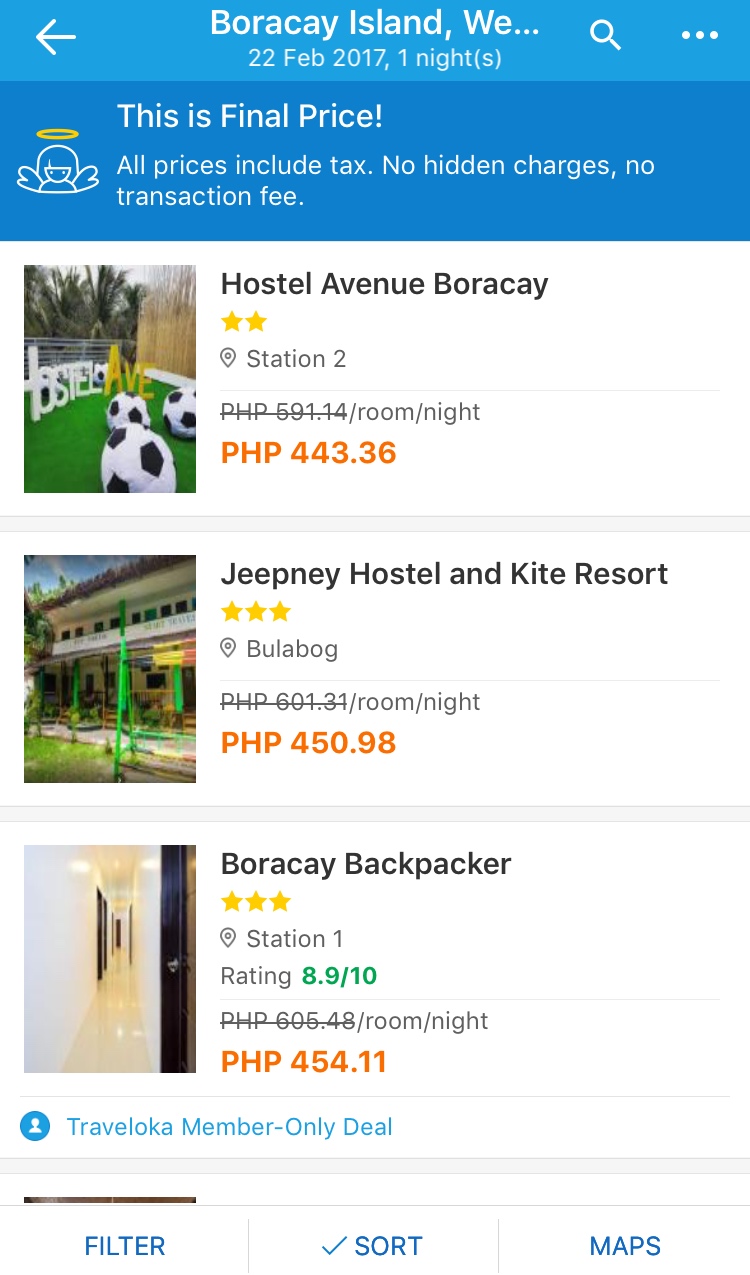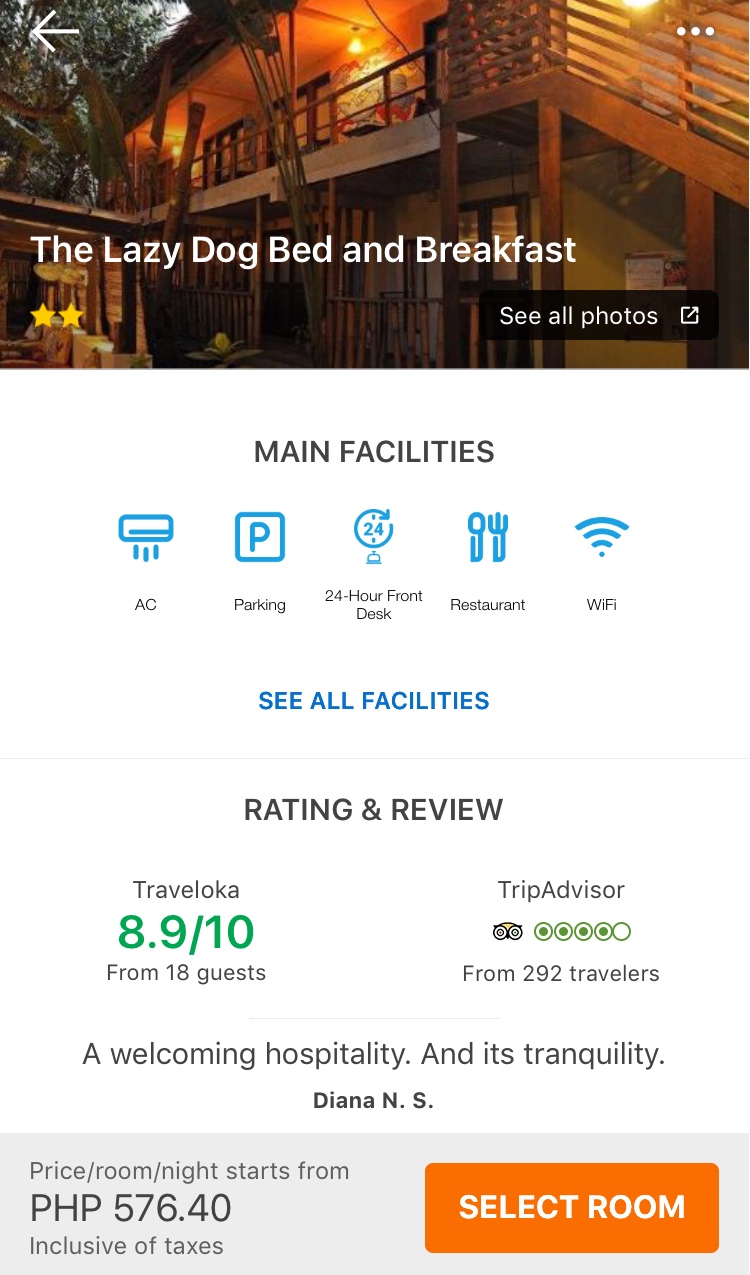 When you click on a suggested place, this will reveal the main facilities, ratings, reviews, destinations nearby, and some photos of the accommodation. Very convenient I must say as information is already available on just a single page. In booking your room, available room types on your schedule are enumerated together with the perks such as free breakfast, refundable or not, and free Wifi.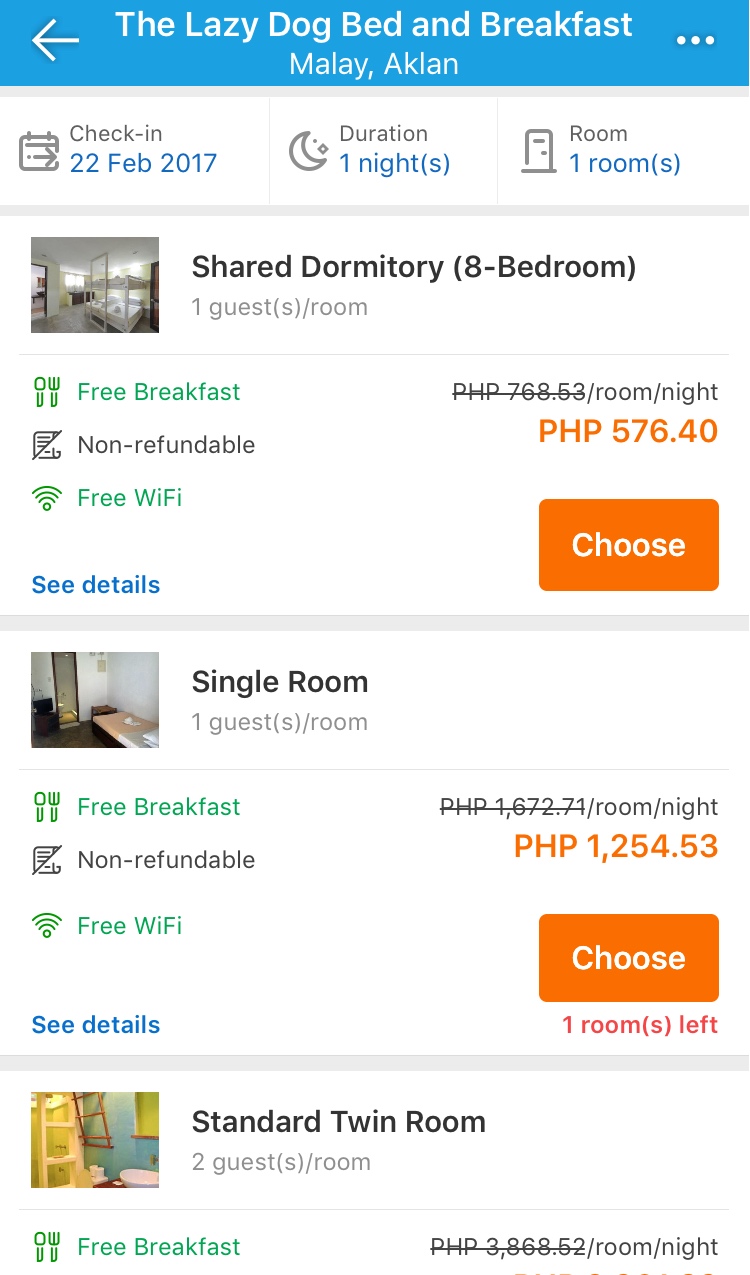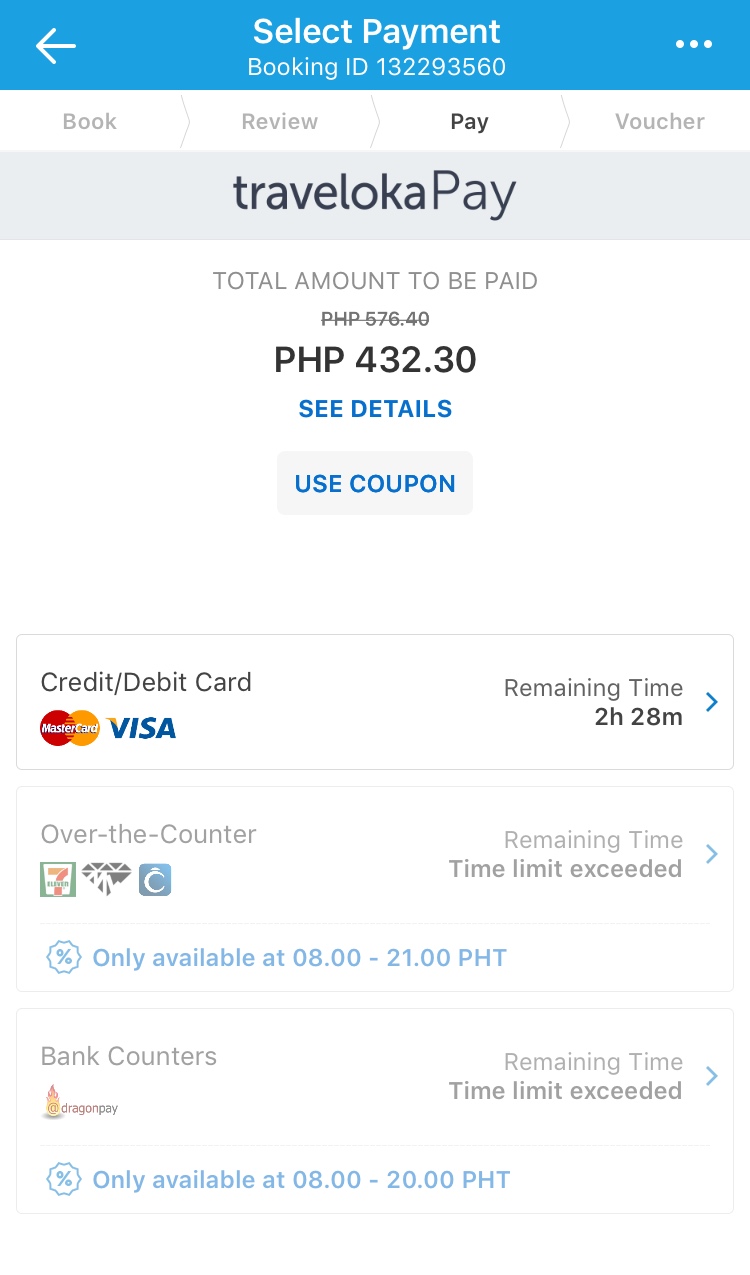 On my case for Lazy Dog Bed and Breakfast, I selected the shared dormitory and it led me to my booking details recapping the check-in/out dates, correct contact details, and the total price. The app will let you review your booking one more time before continuing to the payment tab. Another great thing about the Traveloka app is that prices on the first page are the actual prices. No hidden charges compared to other booking sites that usually add the tax on the last step of the booking process.
The app also has ongoing promotions that will allow users to slice up to 70% of their payment. The original amount was 576.40 but using a voucher code only let me pay 432.30. For payment, there are several options available from credit or debit card, over-the-counter, and bank deposits.
LAZY DOG BED AND BREAKFAST, BORACAY ISLAND
I was at the counter before 2 PM but since the dorm rooms were not fully occupied, I was immediately accommodated. The staff asked for a copy of my id to verify my booking and I also showed her the booking confirmation on the Traveloka app. After filling in the simple form and affixing my signature, the lady-in-charge handed me the key to the common room. There are lockers but I forgot to bring my own lock. Luckily, the hostel rents out padlocks for a deposit of Php100.
Bunk beds are the normal ones but the layout of the bunks, with two bunk beds paired with each other, is quite peculiar. This means that you will get too close to the person on the other side as partition between beds is insignificant. Better if the beds are separated or put a curtain to introduce a little privacy for everyone. The room is not that bright which is perfect for people who like staying in the quarters to get some sleep. Personal light source for each bed is located overhead so reading a book with the light turned on seems a bad 'bright' idea.
Nonetheless, the beds are provided with fresh bed sheets, 2 pillows, and a thick blanket. Toilet and bath are well-maintained and no need for a deposit fee for bath towels. Shampoo and soap are also available. Doorknob wasn't working though because it can still be opened even if it was already locked.
RELATED POST: Boracay Travel Guide
Apart from dormitories, Lazy Dog Bed and Breakfast also offers private room accommodations such as standard, superior, and deluxe rooms. The air-conditioned rooms that are good for couples and groups are equipped with cable television, hot showers, and include free breakfast.
What makes the stay in Lazy Dog Bed and Breakfast is the common lounge. The whole area is covered by a multi-colored tent (or cloth) and has 3 separate lounge areas. An elevated area near the big tree is great for groups hanging out or simply chilling the night away. The tables in the middle section serve as dining areas during breakfast or some snacks from their café. The rightmost part can serve as an anti-social hub as low tables can only accommodate one or two persons. Power outlets are also available so working nomads can continue doing their stuff.
The rate I availed from Lazy Dog Bed and Breakfast thru the Traveloka app surprisingly includes breakfast. Breakfast is basic having an egg, toast, and fruits. For the café, prices are a bit steep and shocking that a Php240-worth of penne pasta seems more expensive than the one you can avail from restaurants along White Beach. Anyway, since I missed Vietnam, I availed a Vietnamese coffee when I heard that the hostel's café offers it.
RELATED POST: Affordable Places to Eat in Boracay
In terms of location, Lazy Dog Bed and Breakfast is a bit far from the center. For some meals, if you prefer a varied option, you needed to walk for a few hundred meters. The hostel is nearer to Bulabog beach that is also dotted with numerous restaurants and cafes. For water activities, staying at Lazy Dog equates to being near with the happenings. Tucked in a compound away from White Beach, you will be assured that your stay will be a relaxing one.
The stay was reasonably good in general with the comfy beds and out-of-the-fad room ambiance. Thanks to Traveloka for the generous discount vouchers for my booking with Lazy Dog Bed and Breakfast. Just in case you're wondering why Lazy Dog, the hostel owner has two dogs that usually roam around the hostel. But most of the time, they are just lazing at the stairs going to the owner's house.
LAZY DOG BED AND BREAKFAST
Bulabog Beach, Balabag, Boracay Island
Mobile: +63 920 945 4845
Website: http://www.lazydogboracay.com/