If you're doing the banana pancake trail from Ho Chi Minh City and heading west, there's no way you can skip Cambodia. This infamous country is between Vietnam and Thailand and is known for the Angkor Wat. During my 2-week Southeast Asia backpacking trip, I spent my days in Cambodia in the cities of Phnom Penh and Siem Reap. These two cities are notorious stopovers for backpackers traveling in SEA. Here's a simple Cambodia itinerary detailing all destinations I've covered as well as expenses and some travel tips.
Phnom Penh is the capital and most populated city of Cambodia while Siem Reap is known as a resort city and the main gateway to the Angkor region of the country. Angkor preserves the remains of the Khmer Empire from the 9th to the 15th century.
THINGS TO REMEMBER
Visa/Immigration
Similar to other Southeast Asian countries, Filipinos can enter Cambodia visa-free up to 21 days. Just make sure that your passport is valid and has blank pages. Cebu Pacific Air has regular flights to Siem Reap from Manila except for Mondays, Wednesdays, and Fridays. Other option is to fly to Ho Chi Minh City, Vietnam and cross the border to Cambodia via Moc Bai – Bavet or fly to Bangkok and head east thru Poipet – Aranyaprathet border. Travelers from most non-Southeast Asian countries are allowed to enter Cambodia on a visa-on-arrival (or e-visa) up to 30 days. Check this link for further visa policy in Cambodia.
Weather
Best months to visit Cambodia is from November to May where the country experiences high temperatures and plenty of sunshine. Expect and prepare for intense and sweltering heat during these months. I visited Phnom Penh and Siem Reap second week of November and I didn't experience any rain during my 4-day stay in the country.
Currency/Exchange
Currency of Cambodia is Cambodian Riel (KHR) yet US Dollar serves as the unofficial second currency of the country. Tour services like tuk-tuk rents and parks' entrances are usually in US Dollar. Same goes with restaurants and food chains yet convenience stores and pharmacies accept Cambodian Riel. When dealing with street food vendors, don't fret if you don't have KHR with you because they also accept dollars. The only thing is, change will be in riel. Standard conversion of the currencies is 1USD = 4000KHR.
Getting Around
There are buses from Ho Chi Minh City heading to either Phnom Penh (around 14$) and Siem Reap (26$). From Bangkok, you can simply take the train from Hua Lamphong Station to Aranyaprathet (2 schedules at 5:55AM and 1:05PM). From the train station, you need to go to the immigration via motorbike or tuk-tuk. After clearing the immigration on the Poipet – Aranyaprathet border, head to Siem Reap on buses or vans. From Siem Reap International Airport, you can head to Siem Reap proper on taxi/vans (7-10$) or tuk-tuk (6$).
4D3N CAMBODIA ITINERARY
DAY 1 – Phnom Penh City Tour
Buses from Ho Chi Minh City usually leave for Cambodia around 8 in the morning. Arriving around two in the afternoon, you can head straight to your accommodation. Start your Phnom Penh walking tour from the Independence Monument and make your way to the north passing by the Royal Palace, National Museum, Sisowath Quay, Wat Ounalom, Central Market, and Wat Phnom.
I was fortunate to visit the capital city on their independence day and joined the celebration. Cambodians flocked Sisowath Quay occupying the Royal Palace Park up to the adjacent parks for the celebration. Before the day ended, a spectacular fireworks display happened to culminate the activity.
DAY 2 – Royal Palace and Tuol Sleng Genocide Museum
Book a bus to Siem Reap that leaves Phnom Penh after lunch. Most bus companies do pick up their guests from their accommodations for free. Just let the bus company know about your reservation and location. Mad Monkey Hostel staff called them for me and it did save me some dollars for the supposed transportation cost.
An afternoon departure is great because you can still spend the morning to roam around the Royal Palace and Silver Pagoda and take a short visit at the Tuol Sleng Museum or the Genocide Museum. If time permits, you can also continue to the Killing Fields before settling on your accommodation to wait for the pick-up service.
DAY 3 – Angkor Archaeological Park
If you booked a bus that leaves around noon in Phnom Penh, arrival in Siem Reap would be around 9PM. It's already late to get a ticket for your Angkor tour so it's better to check-in immediately, take a shower and rest. While checking-in, you can also ask your accommodation if they are affiliated with some tuk-tuk drivers for the Angkor tour.
The next day, get up as early as 4AM and head straight to the ticketing office together with your tuk-tuk driver. The ticket will serve as your entry pass in most of the temples in Angkor Archaeological Park. I did a day tour on the UNESCO World Heritage Site and I was able to cover the temples on the grand circuit. I paid 20$ for the day pass and 15$ for my tuk-tuk driver. If you plan to witness a sunset at the Angkor region, you need to spare another day in Siem Reap.
*NOTE: Last February 1, all prices of passes to the Angkor complex were increased to almost double. For example, the one-day pass is now 37$, per person.
Temple fatigue is real and I'll bet you'll be back at your accommodation around 3 or 4 in the afternoon. With that, you can spend the evening on the Pub Street for some booze and parties or at the night market for some bargains and cheap food.
DAY 4 – Where to Next
On my case, I hopped on a coaster bound to Bangkok. We left the streets of Siem Reap around 8 in the morning and reached the Poipet border by 1PM. I had my exit stamp at the Cambodian departure building around 1:30PM before continuing to the arrival hall on the Thailand side. For Poipet-Aranyaprathet border crossing, check out my separate post here.
WHAT TO EAT
With the busy days in Cambodia, I can't remember any decent local Cambodian food I've tried. All I know is that most local meals in this country have similarities with our food; stewed fish, stir-fried veggies, and fried meat. One thing I observed is that meals are usually served with well-done sunny-side up egg. I had breakfast on one of the booths on the sidewalk and I got a fried egg similar to a stir-fried noodle I ordered from the night market. Food in Cambodia is cheap as long as you'll move away from fancy restaurants.
WHERE TO STAY
One of the backpacker hostels in Cambodia offering cheap rates for travelers is Mad Monkey Hostel. The hostel chain has four locations in the entire country: Phnom Penh, Siem Reap, Kampot, and Koh Rong. Phnom Penh and Siem Reap, locations I've tried, have swimming pool and roof deck. These are being utilized for night parties. If you're a party animal and looking forward to meeting some travelers, Mad Monkey Hostel is a great option to consider. Dorms have either 4, 6, 8, 10 or 12 bunk beds with comfy mattress, clean sheets, and fluffy pillow. You can borrow towels for 5$ deposit.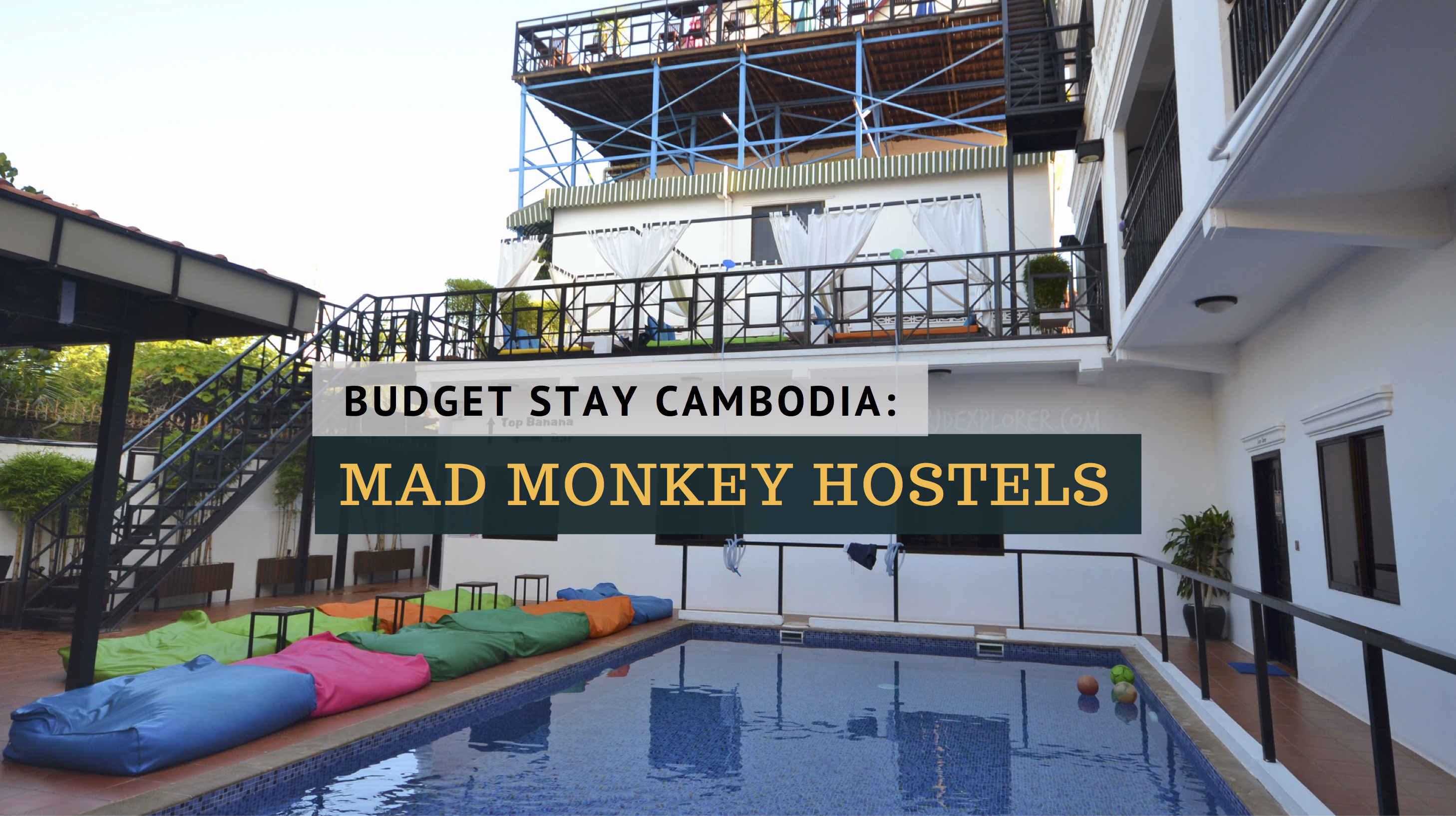 ---
BOOK YOUR ACCOMMODATION IN CAMBODIA NOW!
---
SAMPLE EXPENSES | Cambodia Itinerary for 4D3N (excluding airfare)
* coming from Ho Chi Minh City