My first time in San Juan was in 2014 and this tiny town of La Union is already a prime surfing destination in Luzon. It's an easy getaway for surfers and wannabes wanting to enjoy the waves. Back then, the stretch of Urbiztondo Beach is dotted with hotel accommodations with their restaurants offering views of the ocean. There were few key players when it comes to food so I was surprised to see the booming food scene when I recently revisited the area. Now, where to eat in San Juan?
Vacant lots were utilized and gave way to new hotels and even food parks. In order to help you on your next trip, here's a San Juan food guide featuring coffee shops, all-day breakfast places, drinking pubs, and concept cafe we've tried during our stay.
SURFING IN SAN JUAN TRAVEL GUIDE
WHERE TO EAT IN SAN JUAN, LA UNION?
Surf Shack
Surf Shack is a famous spot in San Juan not only for its food but also its relaxed atmosphere. There's a band playing (not sure if it's every night) that keeps the place a great hangout spot for groups who just want to have their dinner or at least drink some cocktails to start the night.
They have several options to satisfy starving surfers or just regular tourists. Some of the sections on their menu include brick oven pizza, soup and salad bowls, fresh off the boat seafood, rice meals, Mexican food, and sides like buffalo wings, dynamite, and nachos.
Most cocktails are at Php158 and one of them is the Flaming Shaka. The attending crew was so thrilled when a friend told her that we'd be availing five shots of the drink. She even mentioned that their bartender is very ready to prepare the drink. After consuming our food, we were immediately called at the bar counter where their guy poured alcohol on cocktail glasses and setting it on fire.
As for the food, I liked my chicken tacos which were obviously worth the price; dynamite was really explosive with the pungent green chili peppers; sexy oysters were fresh as confirmed by a friend, and luscious grilled meat served with java rice. We also had buffalo wings which were not that appetizing until you dunk it on their sour cream garlic dip.
Makai Bowls
If you need a light meal before starting a great day in San Juan, then head to Makai Bowls. This seaside restaurant is famous for its healthy smoothie bowls, freshly pressed juices, fruit shakes, and fruit popsicles.
Smoothie bowls range from Php220 to Php280 and available on four smoothies; Beach Break, Carille, Cabu Bowl, and Surfer's Bowl and few seasonal versions. Beach Break is a light smoothie bowl having spinach, banana, mango, pineapple, spirulina, and coconut water. An advantage over the other dining spots in San Juan is that Makai Bowls ensures that all the ingredients they dump in their bowls are as healthy as possible by avoiding the use of dairy, sugar, and ice.
Layag Grille and Kilawen Bar
Just across the hut where Makai Bowls resides is Layag Grille and Kilawen Bar, a small restaurant serving sinugba (grilled) and kilawen (ceviche). Some of the items offered are liempo (Php210), chicken leg (Php185), petcho (Php195), and fish tuna (Php130) among others. Meals are served with rice, some veggies, and pickled papaya.
Sabong Chicken
Fried chicken coated with different sauces are normal and you can find it anywhere in the country. But Honey Bagoong Chicken is only found in Sabong Chicken. What I love about the restaurant is its straightforward menu, the Main Contenders are four different versions of fried chicken: original, honey bagoong, Korean soy, and chick'n morty. Aside from that, Bad Beach Bird (chicken à la carte on 3, 6, 9 pieces), sides like fries, eggplant salsa, sautéed okra, and rice are also available.
The honey bagoong coated chicken is indeed a new flavor to the boring regular fried chicken. I also loved the refreshing eggplant salsa served on the side. Ilokano food is a bit on the salty side because of how we use the abundance of bagoong (fish paste) in the region. Sabong Chicken is on point on their honey bagoong chicken, favoring the bagoong over the sweet honey. I must say that don't leave San Juan without devouring a luscious honey-bagoong-coated fried chicken.
Artek Wine Yacht
Bartek is an Ilokano word that translates to "drunkard" or "drunk". This is where Artek Wine Yacht probably got its name because the place serves wines, cocktails, alcohols, and food like tapas, pizza, and cheese platters. I was talking to a friend in Ilokano and we were teaching our Bisaya friends some local terms. The crew behind the counter, who seemed to be the owners, enjoyed listening to our conversations that they added more liquor in the second pitcher of our Sangria. Thanks, mates!
Gefseis Greek Grill
Thunder Bird Resort in Poro Point provides Santorini-inspired accommodations but on hefty amounts. If you want to try a Greek experience when in San Juan and on a tight budget, head straight to Gefseis Greek Grill restaurant for Greek food. When I had my first meal in the restaurant, it was still located along the highway. On my recent visit, the dining place transferred to a new site near the beach.
The claimed authentic Greek meals include souvlaki and kebab platters and wraps, spaghetti salad, steaks, seafood, and desserts such as the famous baklava. The chicken souvlaki I had was served with grilled chicken on pita bread, fries, and veggies on the side.
Ol' Pub Restobar
Long lines in Tagpuan led us to find another place for dinner. Our feet brought us to Ol' Pub Restobar, a dining compound next to Surf Shack. The main dining hall of the place has vintage items from typewriters, clocks, camera, and even an army car. But since it was jam-packed, we decided to settle on the extended place where a band plays an interesting playlist.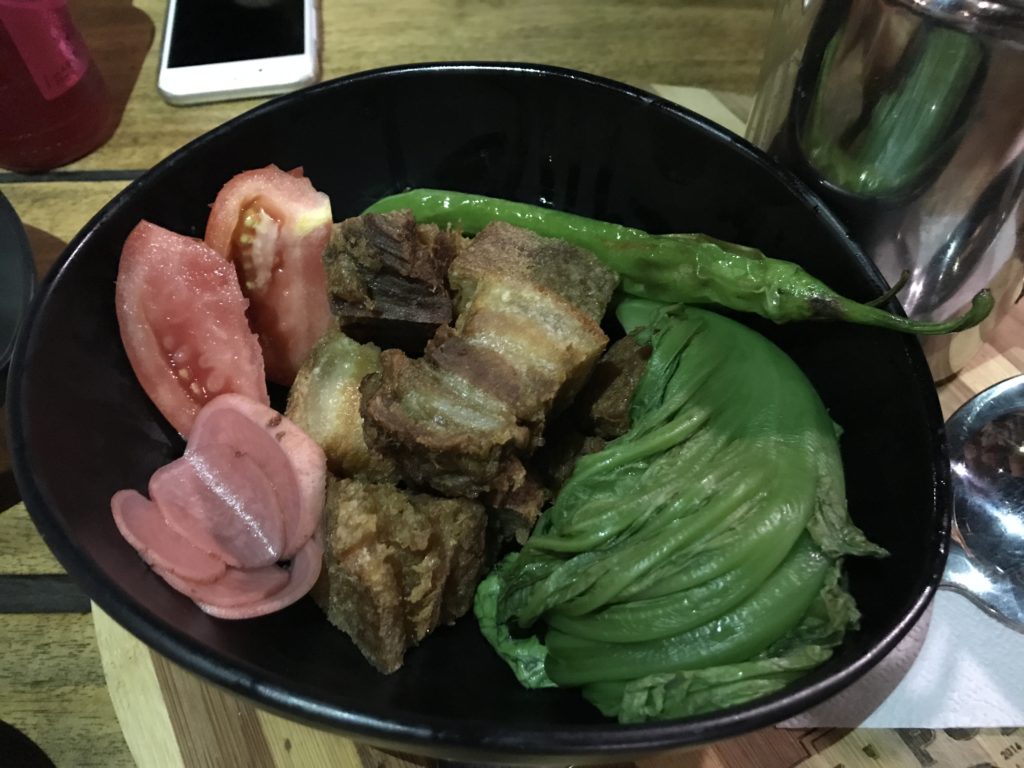 Remarkable items on their menu are satay balls (Php209), pesto pasta (Php239), and crispy liempo sinigang (Php189). They also offer grilled meat such as chicken, pork, and even sausages. Serving the sinigang in a bowl with veggies and soup in a separate container preserved the crispness of the meat that added texture to the soup-based dish.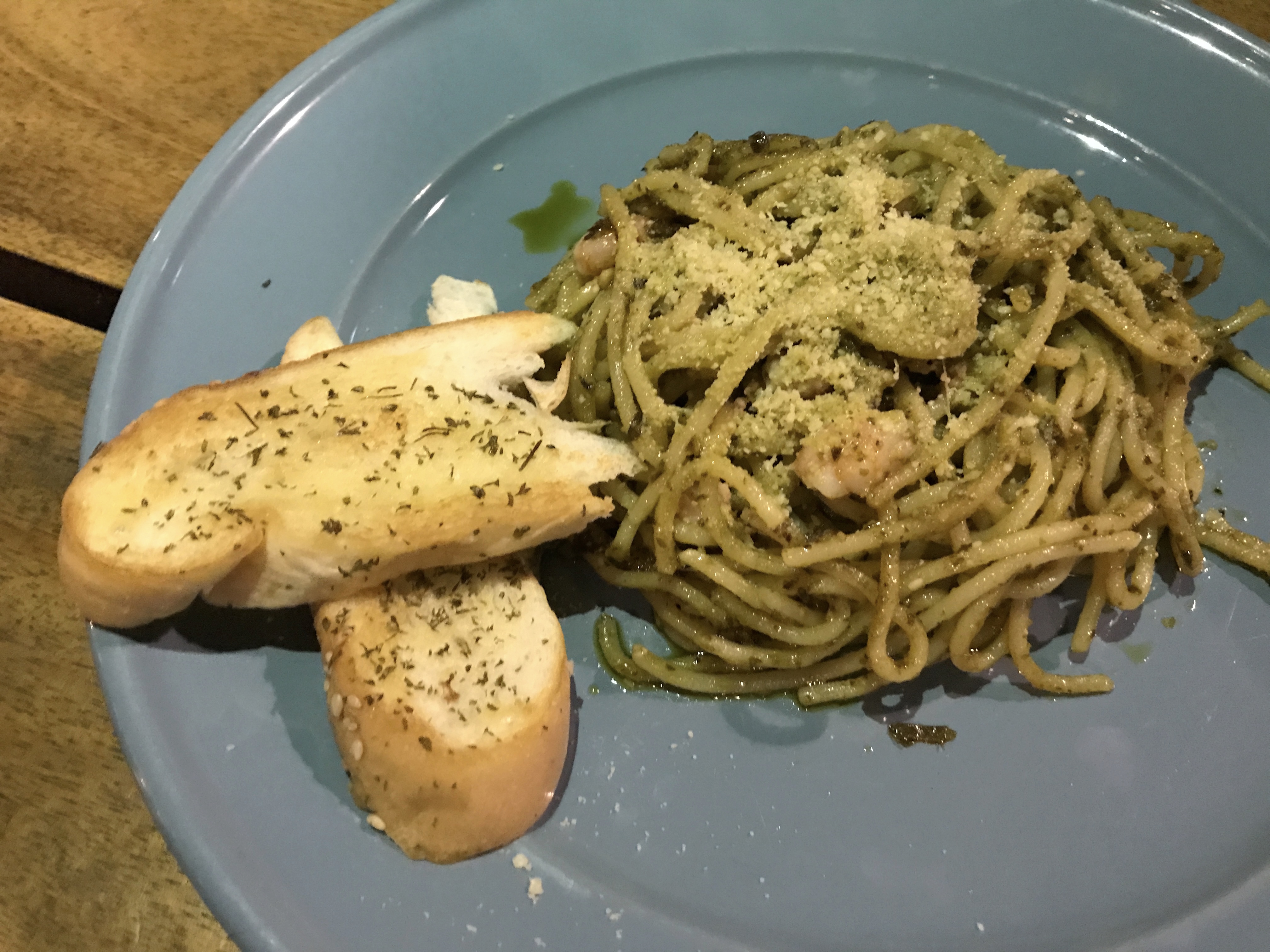 Choka
It was a fun night for our group, thanks to a bottle of Jägermeister and a Turkish whiskey. We woke up around 10 in the morning which was perfect for brunch. We passed by Choka few times on our first few days and since our place is near the café, we were finally drawn by its positive forces.
Choka's menu consists of breakfast staples like toast, waffles, cereal bowls, omelet, and rice bowls. Silog versions also dominate the menu and the Vigan Longganisa is definitely a not-to-miss item.
Engkanto
Still in Clean Beach, a compound right next to Urbiz Gardens, is Engkanto. A coffee house-slash-bar that will surely tow out-of-towners from enchantment because of their invigorating drinks and coffee beverages. Since the coffee shop has an open counter, you get to witness the crew assemble all food for their customers.
El Union Coffee
For coffee fix and sweet treats, El Union Coffee is a prime spot. Though the dining area is a bit small for their patrons, they can serve beverages in cups that you can bring anywhere, just be responsible for handling your waste. A few years ago, I can still remember the coffee-house lodged in a small hole in a tiny alley in San Juan. It's great to see the café soared into a now popular place for coffee drinkers.
Hot, iced, and draft drinks are available and coffee beverages are indeed your thing when it comes to fighting hangovers. Dirty White, the iced version of flat white gives a strong caffeine kick while the Cold Brew Mocha maintains the medley of the chocolate's sweetness and the bitterness of the coffee beans. Grilled Cheese serves with Bacon Jam and their version of Indoor S'mores are hard to resist.
WHERE TO EAT IN SAN JUAN, LA UNION
The food competition is getting tougher and I won't be surprised that there will be new restaurants and concept cafes to open in the next few months to accommodate the increasing number of tourists in the area. In addition to the spots mentioned above and we will definitely try on our next visit are Flotsam and Jetsam, Tagpuan, Seawadeeka, Olas Banditos, Mad Monkeys, Coast Call Kitchen and Bar, and Aloha Sweets and Treats.
Have you tried some interesting dining spots in San Juan not mentioned on the list? Leave some comments below for us to try it next time we make our way to San Juan, La Union.