With the COVID-19 pandemic spreading on every corner of the globe, the travel industry is one of the sectors that is massively hit by the health crisis. Most airlines are forced to ground their fleets with lockdowns imposed by most countries. Others continue to operate on minimal routes for freight purposes. Tourism was greatly affected due to mobility constraints.
A person having the travel bug, staying at home for the past months was a real challenge. I got used to spending my weekends somewhere to destress from hectic work weeks. I always find myself in new destinations exploring the local culture and munching on local cuisines. But with the pandemic, it will be long before travel gets back to normal. In the Philippines, the Department of Tourism is recommending the cancellation of all international travels for the year. In countries that require visas like Japan, embassies are instructed to suspend visa approvals while visa released were put on hold.
Klook is one of the start-ups that disrupted the traditional travel industry. The brand, which serves as a bridge for tour operators and travelers, is really a great solution for a seamless travel planning and creating budget itineraries. It's one of my favorite travel companies lately with all my trips have at least one Klook booking. They cover the travel landscape by offering different categories from local SIM cards and pocket Wifi rentals; airport transfers and shuttles; to activities and experiences.
With the pandemic at hand, Klook is also affected since travel and tourism is its core business. However, the creative people behind the brand came up with several products that they can still offer to their customers despite being constrained to stay at their abodes.
KLOOK HOME-BASED EXPERIENCES
The concept wants to provide continuous satisfaction for travelers to enjoy what they usually experience on the destinations they visit. Home-based experiences cover five categories: do-it-yourself home kits, health and wellness, keep learning, meal plans, and virtual interactive experiences.
Do-it-yourself Home Kits
You might discover a new hobby or make bonding moments at home more meaningful by the home kits they offer. DIY kits available are gardening, baking, coffee-brewing, acrylic painting, candle making, and cleanser making. The complete kits will be delivered to your home and range from Php349.00 to Php1,499.00.
Health and Wellness at Home
If you're longing for the spa experiences and wellness retreats, don't fret and continue living a healthy and balanced lifestyle with Klook's Stay Fit at Home and Wellness at Home activities. These include yoga classes and different therapy sessions.
Keep Learning from Home
Learn a new skill from bartending, Adobe creative design workshops, coffee workshops, and even playdough workshops for the kids at home. All activities are online and offered by trusted providers like Flow Retreats and Barista & Coffee Academy of Asia.
Healthy Meal Plans at Home
In addition to a healthy lifestyle at home with the different wellness activities, meal plans are also offered on Klook's website and these are serviced by vendors like Pickle.ph, Delish Diet, Good Eats, Daily's Diet, MJ Delivers, and Deli In The City. Enjoy healthy meals while staying at home with the different meal plans being offered.
Explore Virtual Experiences at Home
Last but not the least, is the virtual interactive experiences where Klook brings everyone on different attractions around the world without leaving their homes. Every Saturday, from May 30 to June 27, 2020, Klook will tour us on five world attractions; Casa Batllò (Spain), Bali Safari (Indonesia), Madonna Estate Winery (USA), Cebu Safari (Philippines), and Old Royal Naval College (United Kingdom). Virtual travelers will go behind the scenes on these famous attractions and also connect with other travelers around the globe.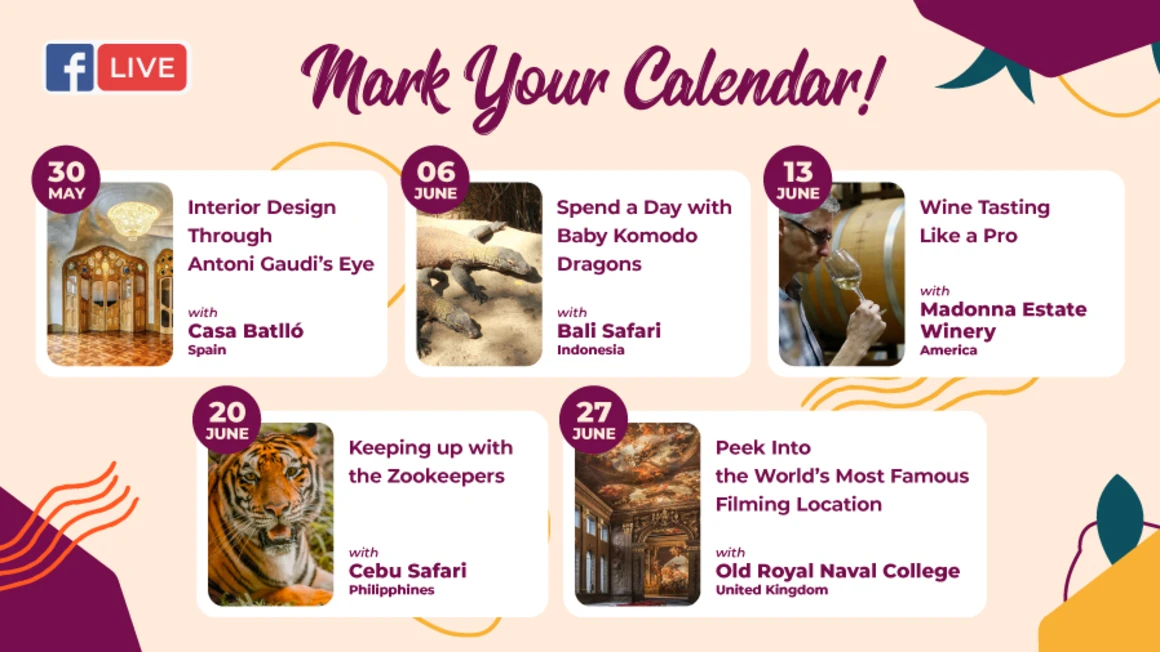 We need to do is support each other during this difficult time. And Klook, being the brand that helps travel providers promote their products and services, still finds ways to connect business and customers despite the global health crisis. Apart from that, with virtual tours, they still want to satisfy the travel bugs of travelers without leaving the comforts of their homes and getting exposed to health risks. The only thing I wish right now is for the world to go back to its safe state so everyone can travel again and experience the wonders that the world offers.