Moalboal is a beach town on the south-western side of Cebu and one of the top attractions in the province. For many years, this place has been a major attraction mostly for locals. Coming from the city during weekends, tourists enjoy and have fun at White Beach (Basdako). But lately, more and more foreigners also begun including the destination on their travel plans.
Moalboal is already one of the more developed places outside of Cebu City. It offers plenty of nice resorts to choose from, as well as a long list of fun activities and attractions. With lively nightlife scene and handful of nice restaurants, you'll see why this town is quickly becoming a major tourist hotspot.
Many tourists choose Moalboal to be their home base for visiting nearby attractions than taking day tours from Cebu City. Staying in Moalboal reduces travel time in visiting popular locations such as the Kawasan Falls or Oslob. This will allow you to enjoy the beach atmosphere that you can't find you opt to stay in the city.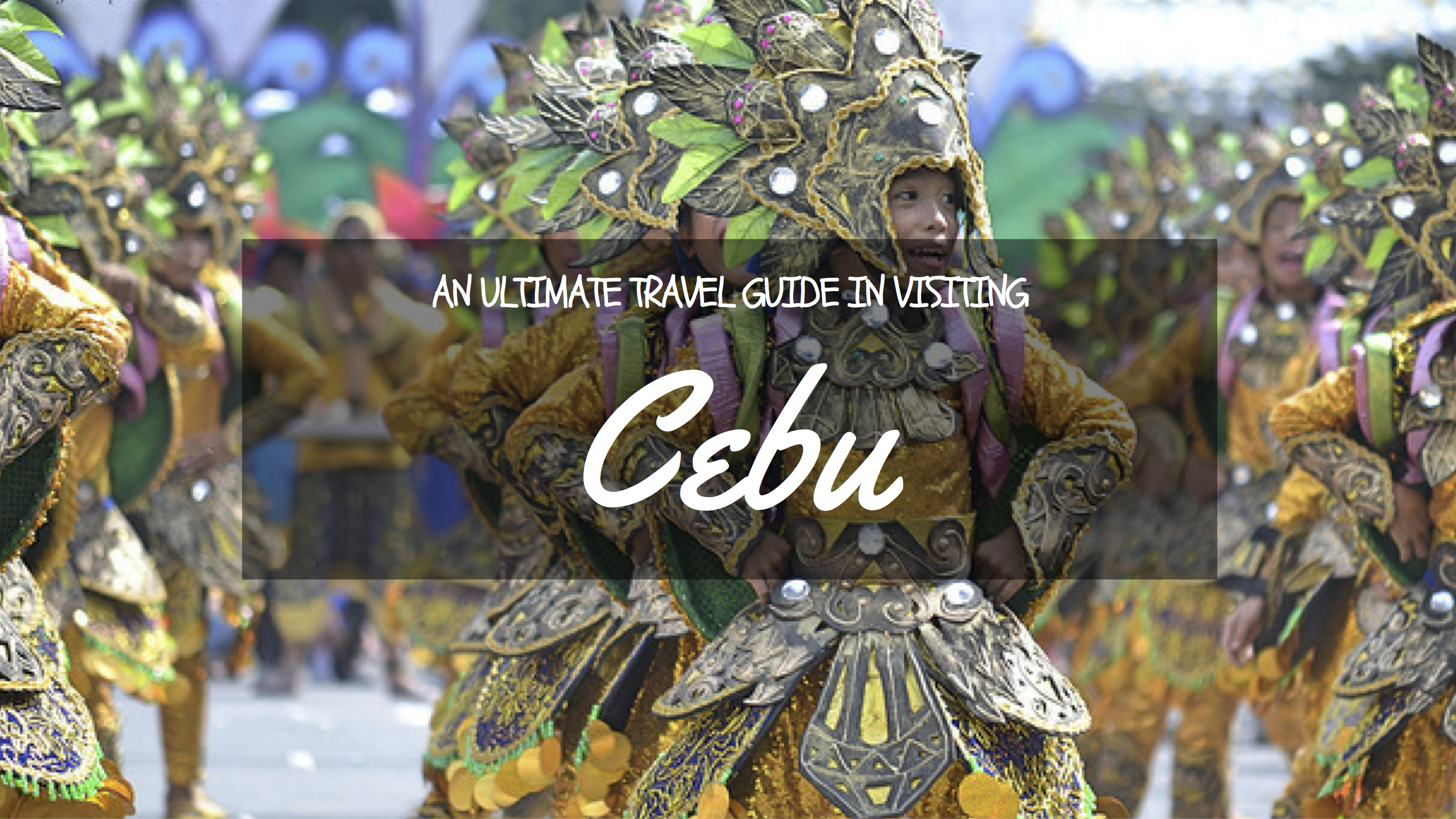 Though I've already posted a detailed itinerary and guide to Cebu island, in which Moalboal is already included, I decided it would be a good idea to dedicate a separate guide to Moalboal. I recommend spending 2-3 nights in Moalboal, so you can fully appreciate everything it has to offer.
How to get to/out of Moalboal
From Mactan Cebu International Airport, you need to reach South Bus Terminal and grab a bus headed for either Moalboal or Badian. The easiest way to do this is by grabbing a metered taxi or using Grab/Uber. A more expensive option is to flag a yellow airport taxi from the airport.
For a cheaper alternative, consider taking the SM MyBus – connecting Mactan Island and Cebu City. Fare is only 25PHP, but it'll take you longer to reach the city because buses leave every hour. Buses don't reach South Bus Terminal, so you should either drop at North Bus Terminal or continue to SM City Cebu and grab a taxi to the terminal. For more details on this option, including bus schedules and stop points, check my SM MyBus post.
I strongly recommend taking the yellow air-conditioned Ceres bus from Cebu to Moalboal and back. It's more expensive, with tickets costing 180PHP per pax, but believe me, it's worth it. Not only due to the comfort it offers, but mainly because travel time is significantly shorter. The nonair-conditioned bus gets pulled over by locals most of the time, so expect the ride to take between 4.5 and 5 hours instead of the usual 3.
Lastly, there's always the option of renting a van in Mactan to take you to all the way to Moalboal. I wouldn't suggest dealing directly with the vendors at the airport, as they'll surely try to rip you off by asking ridiculous prices or demanding to be paid upfront. Instead, what you should do is book the ride in advance by using the services of a Philippines travel agency. While costly, this is actually not a bad choice for families and large groups of people who wish to travel more comfortably.
Where to stay in Moalboal
Moalboal is basically divided into two main areas – Panagsama and White Beach. The first is more central where you'll find most bars and places to eat. The other option is more secluded and romantic. Although Pangasama offers a wider selection of resorts to choose from, the general level you can expect is pretty much the same. Good hotels in White Beach typically cost a little bit more, due to high demands and limited supply. If you are planning on diving, consider staying at one of the specialized dive resorts listed below. These places are among the best places to stay at while in Moalboal, and it would also enhance your diving experience tremendously.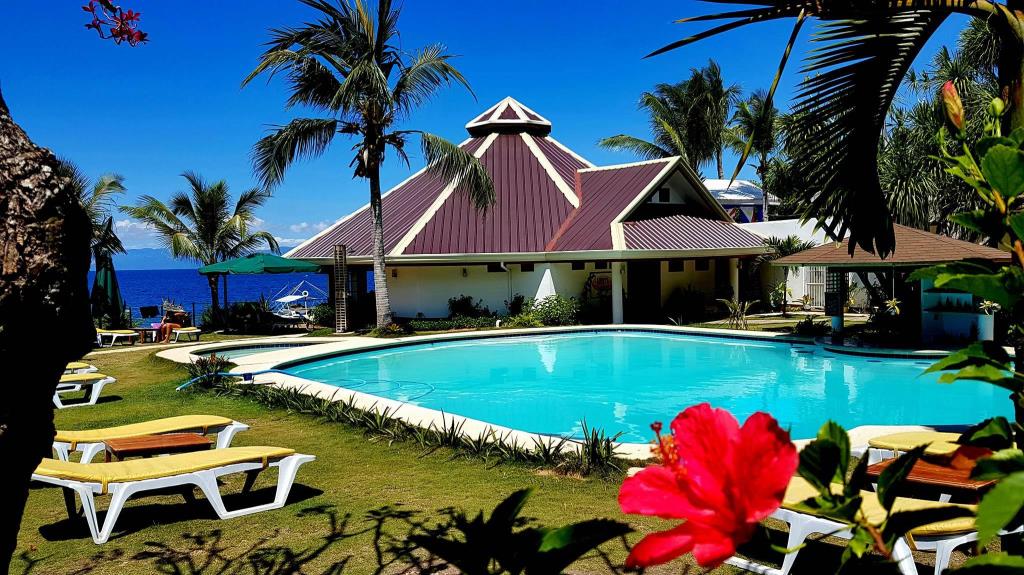 Marcosas Cottages Resort
Panagsama Beach, Moalboal, Moalboal, 6032 Cebu
Contact No. : (032) 474 3027
Book here.
Tipolo Beach Resort
Panagsama Beach, Moalboal, 6032 Cebu
Contact No.: 0917 583 0062
Book here.
Quo Vadis Dive Resort
Panagsama Beach, Moalboal, 6032 Cebu
Contact No.: 0917 519 4050
Book here.
Asian Belgian Resort
123 Saavedra Road, Moalboal, 6032 Cebu
Contact No.: (032) 358 5428
Book here.
Dolphin House Resort
White-Beach, Saavedra, Moalboal, 6032 Cebu
Contact No.: (032) 358 5419
Book here.
What to do in Moalboal
Moalboal is known for diving because it's one best-preserved places to witness the vast wealth of marine life in the Philippines. There are plenty of dive clubs and resorts all over Panagsama, and they all allow walk-ins, so you don't have to book a night to go out on a diving trip. Most of this clubs are highly professional and provide experienced guides and top-notch gears. This makes Moalboal a great place to try out diving for the first time, get your certificate or even take on some advanced and challenging courses.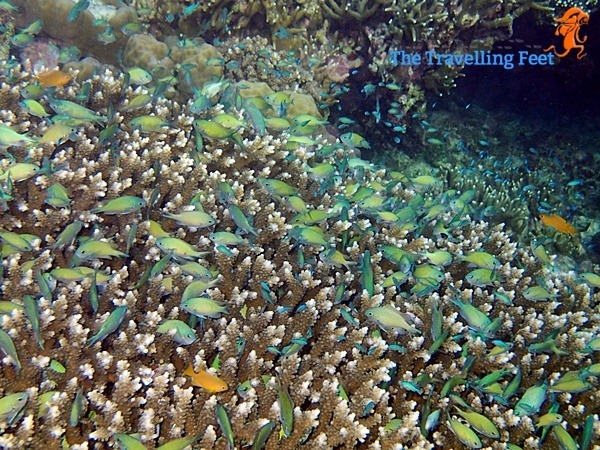 When it comes to diving, the main attraction to see is at Pescador Island for the famous sardine run. You'll be diving with a shoal of millions surrounding you – a truly special experience. If you are lucky enough, you'll even be able to spot some manta rays and even sharks. What makes the Moalboal sardine run great is that you can experience it all year-round. This would guarantee a very special and once in a lifetime diving experience.
Even if you are too afraid to dive, you should definitely book one of the island hopping tours offered on the island. These tours can be easily obtained by asking at your resort's front-desk or going to one of the dive clubs around Pangasama or White beach. Swimming just a few meters away from the shoreline is enough to witness the rich marine biodiversity, so it's a highly recommended activity to try.
Things to do Near Moalboal
As mentioned, Moalboal is an excellent starting point to some of Cebu island's most popular attractions. Rent a motorbike through your hotel and drive there yourself, and you'll be able to cut down at least 50% of the travel time. Oslob would take you an hour and a half to reach, compared to 4-5 hours bus drive from Cebu! Just make sure you get there as early as possible before the place gets too crowded and dirty and the whales begin to disappear.
The same goes for Kawasan Falls, which are only 30 minutes away from Moalboal. Again, getting there early will help you enjoy a more private and quiet atmosphere and you'll feel like you have the waterfalls all for yourself. Moalboal is also the starting point for the Kawasan canyoneering tour – which takes you through the slopes of Kanlaob River all the way down to Kawasan Falls. This is another highly suggested activity to try, just make sure you hire experienced guides who can make sure you are safe.
Where to Eat
I suggest to just stroll around the Pangasama Beach until you see something you like. There are many bars and restaurants to choose from, mostly specializing in local cuisine. Grilled seafood and fish are common, but you can never go wrong with ordering a grilled chicken breast or a hamburger. Little Corner is a great choice for cheap seafood with a great view of the ocean, while Chilli Bar and Andi's Talisay are perfect for enjoying some bar chow along with drinks.
Been to Moalboal? Tell us how it was!
I really hope this guide gives you some idea of how your time in Moalboal could be like. Hopefully, it will convince you to give this place a chance during your vacation in Cebu. Have you already been to Moalboal? Do you know any other good things to do or want to recommend a different resort or bar? Leave a comment and share your travel experiences in the comment section below!