Even before airlines offered affordable plane tickets during seat sales, Cebu is already a destination for local travelers. People will get jealous if you have a photo at the Magellan's cross or near the Mactan Bridge. For my years of stay in the Queen City of the South, I've already been to some tourist attractions yet the list keeps on growing. For you to stop worrying about the flight to Cebu you were able to book on one of airlines' promotions, here's a travel guide and a create-your-own Cebu itinerary.
Years have passed and due to the fast-growing tourism activity, new and exciting destinations currently entice everyone to travel to the province of Cebu. For the following Cebu itinerary, it's recommended that you book your flight arriving in Cebu early in the morning and departing late in the evening. I want to provide a detailed guide as much as possible but since it will be a long post, don't hesitate to leave a comment below for other things missed. Hope I, or other travelers, have idea on the questions you might have.
HOW TO GET TO/OUT OF MACTAN CEBU INT'L AIRPORT
Mactan Cebu International Airport is undergoing expansion and expected to cater more travelers in the coming years. This is due to international airlines and local airlines opening new local and international routes. Getting out of the airport is not that difficult and here are several options available:
SM MY BUS. Cheapest possible is utilizing the SM My Bus that connects the airport to
North Bus Terminal, Park Mall in Mandaue, and SM City Cebu. Fare is very affordable at 25PHP (0.5USD) but usually takes an hour (maximum due to traffic) travel time. The negative side on this transport is the schedule that only starts at 6AM up to 9PM on 30-minute or 1-hour interval. For schedule, stop points, check out my SM MyBus post.
AIRPORT/ORDINARY TAXI. When your arrival or departure is beyond the schedule of the SM My Bus, you can join the queue for cabs bound to any point of Cebu. Flag down is 40PHP (~1USD) and 3.5PHP additional for every 300 meters for the ordinary taxi while 70PHP and 4PHP for airport (yellow) taxis.
RENT-A-CAR. Cars parked near the arrival gate will try to negotiate and convince you that their service is the most convenient way of going to the city. If you fall in their trap, it will cost you from 500PHP to 1000PHP depending on your destination.
UBER/GRAB. Uber and Grab is already available in Cebu and you'll get to your destination without the worries of being scammed or overcharged. Surcharge during peak hours also applies though. UBER offers a Php500 off VIVACEBU code valid for one trip to or from Mactan Cebu International Airport only. Valid until August 31, 2017.
HOTEL PICK-UP. If your accommodation includes an airport pick-up service, the hotel crews usually stay at the exit gate.
GOING NORTH/SOUTH OF CEBU
Skipping Cebu City on your arrival with the desire to go directly to either north or south of Cebu, then head straight to the bus terminals. Public buses are not allowed on the main avenues of Cebu City. For tourists heading to Bantayan Island, Malapascua Island, and Camotes Islands, go directly to North Bus Terminal. SM My Bus takes a stop at the terminal and just let the driver know beforehand. On the other hand, you'll need to go to the South Bus Terminal if you're heading to Oslob, Dalaguete, Moalboal, Badian, or Samboan.
GOING AROUND CEBU
Commuting in Cebu is very straight forward if yo have knowledge about the jeepney routes. Jeepneys are labeled with a number and a letter. The number indicates the route and the number for the different streets or avenues along the route. Taxi are everywhere and drivers are more friendly than those in Manila. They will return your change even if it's only one peso. If you're in a group and wanting a hassle-free tour around the city, look for van or car rentals. For rates, an eight-hour tour in the city is usually at PHP2000 – 2500. Rates already include the car use, driver, and gas. Call Kiko at 09055437006 or 09219208594 and inquire about the vehicle can accommodate up to 6 persons.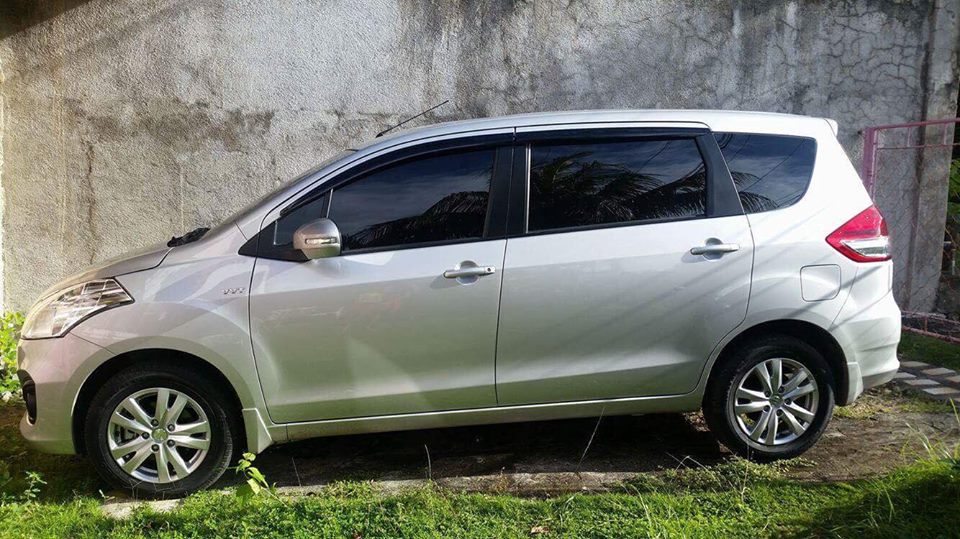 WHERE TO STAY IN CEBU
Now that you already have ideas on how to make your way out of the airport, it's now time to look for a place to stay. If you'll be staying for few nights in the city and planning of having a city tour, hotels in the heart of Cebu are the best options to consider because of its accessibility. Here are recommended accommodations to choose from. Location and price range are indicated for each hotel/resort recommendation. For destinations up north and down south, check out the list under the itineraries. If you're traveling in groups or with your family, you might also consider booking a Cebu villa.
CEBU WHITE SANDS RESORT AND SPA
Maribago, Mactan Island, Lapu-Lapu City, Cebu
Contact Nos.: +6332-268-9000 / +6332-495-2226
Book here.
PLANTATION BAY RESORT AND SPA
Marigondon, Mactan Island, Lapu-Lapu City, Cebu
Contact Nos.: +6332-505-9800
Book here.
QUEST HOTEL AND CONFERENCE CENTER CEBU
Archbishop Reyes Avenue, Cebu City, Cebu
Contact Nos.: +6332-402-5999
Book here.
PALM GRASS HOTEL
68 General Junquera St., Kalubihan, Cebu City, Cebu
Contact Nos.: +6332-412-2438
Book here.
MARCO POLO PLAZA CEBU
Nivel Hills, Cebu Veterans Drive, Cebu City, Cebu
Contact Nos.: +6332-253-1111
Book here.
CEBU PARKLANE INTERNATIONAL HOTEL
N Escario St., Cebu City, Cebu
Contact Nos.: +6332-234-7000
Book here.
PILLOWS HOTEL
208 Gov. M. Roa St., Cebu City, Cebu
Contact Nos.: +6332-268-8000
Book here.
BAYFRONT HOTEL CEBU
Kaohsiung St. Cebu City, Cebu
Contact Nos.: +6332-230-6777
Book here.
WHERE/WHAT TO EAT IN CEBU
When you ask a random Cebuano about a must-try food in Cebu, there's a greater chance that you'll get lechon. Lechon, or roasted suckling pig, represents Cebu food and the crispy skin and salty and luscious pork meat will make you crave for it. Cebuanos also love barbecue, hence the numerous grilling hubs in the city like Larsian, Matias, Willers, and a lot more!
You can continue the long list of must-try food in Cebu from the crunchy danggit, to Cebu chorizo, tuslob buwa, humba, ngohiong, and the list goes on. Several home-grown restaurants also cater hungry tourists and some of them are Casa Verde for affordable ribs and steaks, La Marea for their brownie cups, and Lantaw for seafood feasts and the famous sutokil; sugba (grill), tuwa (stew), kilaw (ceviche). If you'll be staying around the city during weekends, don't miss the weekend night market Sugbo Mercado for a varied options of local and international cuisines.
DIY CEBU ITINERARY
To maximize your stay in Cebu, it is recommended that flights to the destination should arrive early in the morning before 7AM, and departing Cebu past 8PM on your last day. Get ready with the number of days you're planning to spend in Cebu and good luck in building your ultimate Cebu itinerary. Click the links to expand.
CEBU HISTORICAL + HIGHLAND TOUR (1 DAY)
City tour is the best thing to do after arriving in the city. Drop your bags on your selected accommodation and proceed to downtown Cebu while waiting for check in time. Head straight to Casa Gorordo and trace the history of Cebu by hopping from one landmark to another. You can check this walking tour route in downtown proper for destinations to see. In the afternoon, go check Taoist Temple, Temple of Leah, Sirao Garden, and end your evening in TOPS, overlooking Cebu City. If you still have time, proceed to Crown Regency Hotel to experience the fascinating edge-coaster ride.
MACTAN ISLAND HOPPING (1 DAY)
Mactan Island is known for world class and high-end resorts that usually cost a chunk from your budget. Another thing you can do on your stay in Mactan is to do an island hopping activity on 5-7 islands. Jump on a boat and head to the islands of Nalusuan, Olango, Gilutungan, Kawhagan, Pandanon, and others. Enjoy basking under the heat of the sun on white sand beaches or plunge on turquoise waters and swim with the fishes.
CHURCH HOPPING (1 DAY)
Cebu is the first Spanish settlement in the country and believed to be the origin of Christianity in the Philippines. With this significant event in the past, century-old churches are usual in the province. In fact, you can create a lot of combinations for your Visita Iglesias during Holy Week. If you're a fan of architecture or simply just a devotee, you can hop from one church to another on your visit to Cebu.
Start your day at the Basilica Minore Del Santo Niño, the first church established in the island-province and housing the country's oldest relic, the figure of Santo Niño. If southwest part of Cebu is known for mighty waterfalls, the east side is dotted with old churches. Other churches are Sta. Teresa de Avila Parish (Talisay City), Church of the Immaculate Heart of Mary (Minglanilla), San Isidro Labrador Parish (San Fernando), San Franciso de Asis Parish (Naga), Santa Catalina de Alejandria Parish (Carcar), Church of Nuestra Senora del Pilar de Zaragoza (Sibonga), San Miguel Arcangel Parish (Argao), San Guillermo el Hermitano Parish (Dalaguete), Nuestra Senora del Patrocinio (Boljoon), and Nuestra Senora de la Inmaculada Concepcion (Oslob).
MOALBOAL BEACH + DIVING/SNORKELING (2 DAYS)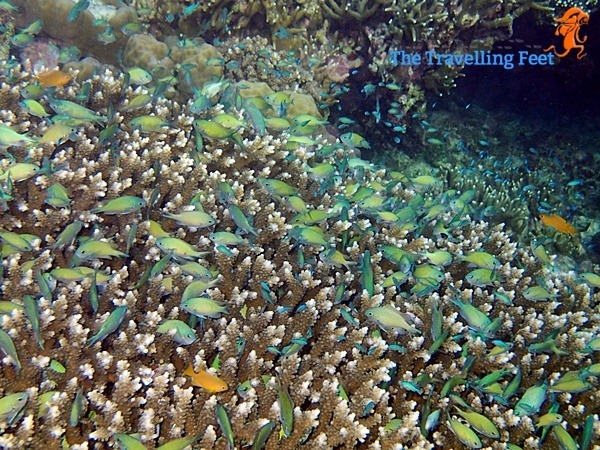 Much interested with water activities like swimming, snorkeling, and diving? Moalboal can provide these activities to you when you visit Cebu. The town in southern Cebu has two
famous beaches: Panagsama and Basdaku. There are lot of budget accommodations in Panagsama yet better beach escapade can be availed from Basdaku. Nonetheless, both are easy access to Pescador Island if you're after some snorkeling or diving. Availing diving equipment from diving centers in Moalboal will let you experience the marine biodiversity under Pescador Island's waters. If you're lucky, you'll get a chance to spot some sharks and stumble on a sardine run. If diving is not for you, few meters from the shoreline already provides captivating underwater views.
WHERE TO STAY IN MOALBOAL
MOALBOAL TROPICS
Paramayon, Barangay Poblacion East, Moalboal, Cebu
Contact: +63917-321-4702
Book here.
MOALBOAL BEACH RESORT
White Beach, Sitio Kalingking, Barangay Saavedra, Moalboal, Cebu
Book here.
QUO VADIS DIVE RESORT
Panagsama Beach, Barangay Basdiot, Moalboal, Cebu
Contact Nos.: +63917-519-4050
Book here.
WATERFALL HOPPING IN SOUTH CEBU (1 DAY)
A whole day is enough to explore the captivating waterfalls on the southwest side of the province. From Cebu City, start chasing waterfalls from Barili for the Mantayupan Falls and moving to Kawasan Falls, the most famous waterfall in Cebu. Other waterfalls can be found in the town of Ginatilan for Inambakan, Bugnawan, and Kampael Falls; Cambais Falls in Alegria; Montaneza and Kabutongan Falls in Malabuyoc; and the trio of Binalayan, Dao, and Aguinid for Samboan. End the day on the shower-like waters of Tumalog Falls in Oslob.
WHERE TO STAY IN BADIAN
MATUTINAO BEACH RESORT
Santander – Barili – Toledo Rd, Alegría, Cebu
Contact Nos.: https://www.facebook.com/matutinaobeach/
BADIAN ISLAND RESORT AND SPA
Badian Island, Badian, Cebu
Contact Nos.: +6332-401-3303 to 05
Book here.
KAWASAN CANYONEERING + LAMBUG BEACH (1 DAY)
For tourists who really love extreme adventures, Kawasan Canyoneering is currently the hottest nerve-wracking activity in Cebu. It requires tourists to jump off cliffs ranging from 20-50 feet high on the turquoise waters of Kanlaob River. Start the day with a short briefing in Matutinao Beach Resort and take a habal-habal ride to drive you to your jump-off point. From that point, you need to survive jumps, slides, and simple spelunking to finish the entire trail for 4-5 hours, depending on your pace. Contact Kawasan Canyoneering for quality canyoneering guiding.
OSMEÑA PEAK TO KAWASAN TRAVERSE (1 DAY)
For mountaineers visiting Cebu, conquering Osmeña Peak is a breeze activity. On a clear day, you can see the opposing east and west sides of the province from the peak.
Another option is to do a 4-to-5-hour traverse from Osmeña Peak in Dalaguete to Kawasan Falls in Badian. It's like striking two major nature spots in Cebu in just a day. There are several trails available and the easiest one passes by some residential areas. The one we tried is a bit harder with some steep trails and walking on edges next to a ravine. If you're too tired for a traverse, services of habal-habal drivers can bring you directly to Kawasan Falls.
OSLOB TOUR + WHALEWATCHING (2 DAYS)
Oslob, the southern most town of Cebu has a fair share on the tourism of the province. It played a vital role in the past serving as the major defense system of the province against
Moro raiders. There were seven watchtowers including the Baluarte built in 1788. Other historic sites are the Immaculate Conception Church and Cuartel.
Though I don't support this tourism activity, whaleshark watching is also one of the must-activities in Oslob. Schedule of whale-watching starts from 6AM – 1230PM. When joining this activity, please do follow all the rules the local tourism is strictly implementing. This is to make the gentle giants safe all through-out the activity.
Other days can be allotted for a habal-habal drive from the main-road to the shower-drops of Tumalog Falls. Take a refreshing dip on several basins catching the shower-like water from the falls. Another option to beat the heat is to hop on a boat and proceed to Sumilon Island for its shifting sandbar.
WHERE TO STAY IN OSLOB
GUNNERS LODGING HOUSE
Poblacion, Oslob, Cebu
Book here.
SEAFARI RESORT OSLOB
Cuancua-ay, Tanawan, Oslob, Cebu
Contact Nos.: +63932-558-7108
Book here.
BLUEWATER SUMILON ISLAND RESORT
Sumilon Island, Bancogon, Oslob, Cebu
Contact Nos.: +6332-318-3129 / 318-9098
Book here.
BARILI + ALOGUINSAN (1 DAY)
If travelling to Moalboal or Oslob is too much for your limited stay, 2 to 3 hours away from the city are the towns of Barili and Aloguinsan. Barili is know for Mantayupan Falls located in Barangay Campangga, about 4-kilometer away from the main road. The falls is regarded as the highest waterfall in Cebu at approximately 200 meters.
In addition to this day tour is the eco-cultural tour and river cruise in Aloguinsan. You'll be welcomed by singing and dancing locals before enjoying great local food for lunch. The Php650 package rate includes lunch, snacks, and river cruise.
Bojo River cruise starts from the mangrove area and channels narrow passages still bordered by mangroves. Few meters before the river mouth, towering limestone cliffs will appear on both sides. Enjoy the captivating view from the river going out to Tañon Strait.
CAMOTES ISLANDS (2 DAYS)
If you only have a weekend to spare in the province and wanting to experience a quick beach escapade, Camotes Islands is the nearest place to satisfy your goal. Recently, Ocean Jet offered a direct ferry from Cebu City to Camotes Island for only Php500 per way.
Located on the east side of the province, this group of islands boast natural attractions from beaches, caves, lakes, waterfalls, and trails of history such as churches.
Timubo Cave and Natural Freshwater Pool. Photo by Ayn of My Travel Remedy.
WHERE TO STAY IN CAMOTES ISLAND
MANGODLONG PARADISE RESORT
Mangodlong, Heminsula, San Francisco, Camotes Islands, Cebu
Contact Nos.: +6332-328-0500
Book here.
COCO GROVE NATURE RESORT AND SPA
Mangodlong, Heminsula, San Francisco, Camotes Islands, Cebu
Contact: https://www.facebook.com/cocogrovenatureresort/
Book here.
CAMOTES FLYING FISH RESORT
Brgy. Cagcagan, Poro Camotes Island, Camotes Islands, Cebu
Contact Nos.: +63915-593-8636
Book here.
MALAPASCUA ISLAND (2 DAYS)
One Friday night, my workmates and I were scrambling on a bus headed to Maya Port, the gateway to Malapascua Island. Malapascua Island is a tiny island on the northeast of Cebu where divers frequent for thresher shark spotting. We visited the island not for the thresher sharks but for the beach and the underwater landscape. Though numerous restaurants and lodging houses already dot the shoreline of the main beach, Malapascua is still a best getaway from the busy and thriving city.
There are several restaurants catering local and foreign travelers alike yet we dined most of the time at Ate Ging-Ging's. Enjoy affordable home-cooked meals while having chit-chats with the owner and her crew. Night scene in Malapascua is not grand as Boracay but the local dance party is really fun! A basketball court turns into a dance floor during weekends and a minimum fee will allow to groove to the music. There are passenger boats from Maya Port to Malapascua but you can easily split the boat rent if you're travelling in a group.
WHERE TO STAY IN MALAPASCUA ISLAND
BUENA VIDA RESORT AND SPA
Logon Malapascua Island, Malapascua Island, Cebu
Contact Nos.: +63915-283-0258
Book here.
TEPANEE BEACH RESORT
Malapascua Island, Logon, Daanbantayan, Malapascua Island, Cebu
Contact Nos.: +63917-302-2495
Book here.
OCEAN VIDA RESORT
Bounty Beach Logon, Daanbantayan, Malapascua Island, Cebu
Contact Nos.: +63917-303-8064
Book here.
BANTAYAN ISLAND (2 DAYS)
For a relaxing weekend beach getaway, Bantayan Island is indeed the best place to be. White and powdery beaches complement well with the clear blue waters of the island. 3-4 hours travel from Cebu City to Hagnaya Port and about an hour ferry ride will bring you to Sta. Fe in Bantayan Island. Apart from Sugar Beach, you can also visit Ogtong Cave, the century-old Sts Peter and Paul Church, and hop to Virgin Island. Rent a bicycle for a Php200 a day and explore other areas of the island.
WHERE TO STAY IN BANTAYAN ISLAND
KOTA BEACH RESORT
F. Duarte Street, Santa Fe, Bantayan Island, Cebu
Contact Nos.: +6332-438-9042
Book here.
ANIKA ISLAND RESORT
F. Roska St., Bantayan Island, CebU
Contact Nos.: +63917-328-4898
Book here.
STA FE BEACH CLUB
Santa Fe, Bantayan Island, Cebu
Contact Nos.: +6332-438-9090
Book here.
SINULOG FESTIVAL (2 DAYS)
If by chance you book a cheap flight to Cebu on the third Sunday of January, it's your time to participate on the much-awaited and grandest festival in the Philippines, Sinulog Festival. Millions of devotees join the annual procession that usually happens on Saturday of the weekend highlight. Sunday, aside from the mass at the Basilica Minore del Sto. Niño, is scheduled for the grand parade. Contingents from the city, other towns of Cebu, and nearby provinces, compete for the street-dancing competition. Expect colorful costumes and amazing dances and choreographs from the participants. Floats, giants, and other stuff also make part of the carousel parade.
WHERE TO NEXT
You've already enjoyed your stay in Cebu but still have more days to spare in the Visayas? You can simply hop from Cebu island to the nearby islands of Negros, Panay, Siquijor, Bohol, Leyte, and Samar. Here are some destinations I already covered and traveled to. Click on the photos to open travel guides and itineraries to these destinations.