Are you going to believe me if I'll tell you that my first trip to Cebu wasn't for leisure but for work? People I know in Cebu even asked me why I accepted the offer when I've never been to the queen city of the south. Well, I just love adventure and considered the milestone one.
For almost a year in Cebu, I really fell in love with the city, and province in general, due to some reasons: lesser traffic compared to Manila, food is a lot cheaper, and destinations are just a ride away from the city. From a perspective of a person not from the province, here's a list of things why tourists should love Cebu.
PUSO AND BBQ
On my first week in Cebu, workmates introduced me to puso (poo-SO), rice enclosed and cooked in a tetrahedral or diamond-shaped casing made of coconut leaves. Locals also call it 'hanging rice' as the packs are being hung for sale.
Puso and BBQ tandem.
Probably the best 'sud-an' or dish to partner with the 'puso' is barbeque. Larsian, near Osmeña-Fuente Circle, is famous for skewers from chicken, pork, and seafood. But if going to Larsian is a problem, don't worry because barbeque stands are ubiquitous in the city. Your Php 100 can go a mile and will provide you a heavy dinner.
JEEPNEY SIGNS
A friend told me that jeepneys in Cebu have numbers and letters as sign aside from the route itself printed on the side of the vehicle. Jeepneys were numbered based on their route and the letter after it differentiates them based on the streets or avenue they traverse. If you're new to the city and consider commuting as the major way of transportation, just memorize the jeepney codes that pass by your area for you not to get lost.
DANGGIT AND DRIED MANGOES
These two are the most demanded 'pasalubong' request you get from your friends everytime they find out that you're visiting Cebu. Dried fish, or locally called as 'buwad', are omnipresent in Tabo-an Market known for different dried seafood including danggit. From the crispy and crunchy danggit, dried mango is also one of the known products of Cebu. A pack containing a quarter kilo of the sweet delight usually ranges from Php40 – 50, depending on the quality of the mango slices.
HERITAGE AND HISTORICAL SITES
The oldest street in the country, Colon Street, is located in Cebu City and will attest to the colorful history of the city. Walking along the downtown area will give you access to Casa Gorordo, Yap San Diego Ancestral House, Heritage of Cebu Park, Colon Street Marker, Cathedral Museum, Cebu Metropolitan Cathedral, Basilica Minore De Santo Niño, and the famous Magellan's Cross.
You can end your tour in Fort San Pedro and laze around Plaza Independencia. If you have some time, you can also hop from the century-old churches of Southern Cebu from Talisay City to the southernmost municipality of Oslob. If going to these destinations won't be possible on your visit, the different museums in the city will be your guide to discovering the story of these heritage landmarks.
WORLD CLASS RESORTS
Mactan Island has several world-class hotels and resorts to experience a lavish getaway. They offer a different kind of experience but one thing is common, fine white sands and clear waters that are great for swimming. Aside from Mactan, island resorts are also one of the great options to splurge some from your savings like the Bluewater Sumilon Island Resort in Oslob, a wellness island resort in Badian, and an exclusive luxury resort in Daanbantayan.
MARINE BIODIVERSITY
Don't settle on white sand beaches and clear waters because you can go deeper and discover the rich marine biodiversity of the province. Islands of Gilutungan, Olango, and Nalusuan, just 15-20 minutes away from Mactan Island already offer enormous underwater life. In addition, Moalboal is also known to diving enthusiasts for the sardine run while Malapascua for the thresher sharks.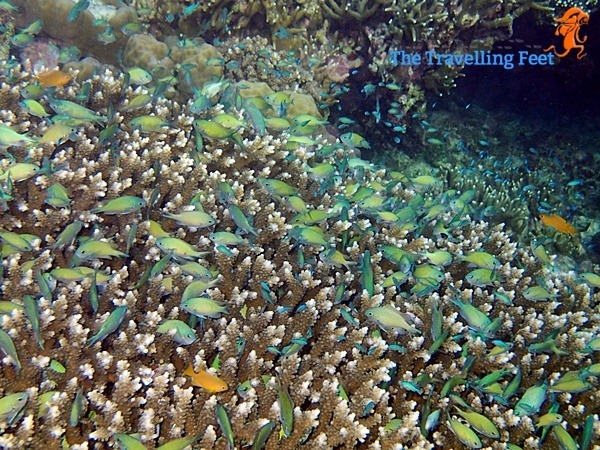 WATERFALLS
One Friday at work, I had no plans for the coming weekend so I browsed online for things to do in the southwest part of Cebu and waterfall hopping activity was the result I got. So from work, I went home to get some stuff and rode the earliest bus going to Samboan. In a day, I was able to visit 7 waterfalls: Aguinid, Binalayan, Inambakan, Kampael, Bugnawan, Kawasan, and Barili Falls. These falls are only some of the dozens of waterfalls in the province including the Tumalog Falls of Oslob.
ISLANDS AND BEACHES
Island hopping and beach bumming are some of the things our group usually enjoys everytime we plan a quick weekend getaway. And what's great when you're in Cebu is that you can already experience these in just an hour travel from the city. Off Mactan are several islands having a stretch of white sand beaches while a 4-hour travel either to north or south will be your ticket for more white and powdery beaches. Bantayan Island has Sugar Beach, Oslob has Sumilon Island with a shifting sandbar, while Panagsama Beach for Moalboal. Also, don't forget Mangudlong Beach and Santiago Bay of Camotes Island.
CEBU LECHON BELLY
Eyes and smiles go wide every time I hear the word lechon (roast pig). But on my stay in Cebu, it's not a big deal anymore as I can have it anywhere in the city. Some lechon chains offer budget meals for as low as Php 90 for a 100g of lechon, including puso. But kudos to the imaginative mind of the person who discovered the lechon belly, a slab of pork belly rolled into a log, seasoned with different spices and finally roasted into perfection, crunchy and crispy skin, and tender and juicy meat that goes great with sukang pinakurat.
Cebu Original Spicy Lechon Belly!
SINULOG FESTIVAL
The grandest festival I have ever attended in the country. After Christmas season, all streets of Cebu City transform into a festive mood with drummers and sound systems playing the Sinulog beat. Week prior to the grand parade, different schools in the city and province compete for the Sinulog sa Kabataan street-dance competition that will allow them to join the Sinulog Grand Parade along with the different contingents from different provinces.
Aside from the colorful parades, I also encourage you to join the Friday mass and the procession to see how Cebuanos celebrate the festivities and witness the strong faith of everyone towards Senyor Santo Niño. After the grand parade, people flock some streets on Mango Avenue for an epic street party where putting face paints and powders on other people is allowed, as well as spurting liquors and beer.
There is no doubt why Cebu is considered as a top destination in the country because it offers every kind of attraction a tourist can ask for. From waterfalls, beaches, island hopping, heritage sites, festival, luxury resorts, and great food. These are only some of the reasons why you should love and visit Cebu. Fortunately for me, I currently live in the queen city of the south. Did I forget to include your reason? Leave it in the comment section below and we might consider creating a second part of this post.